drafft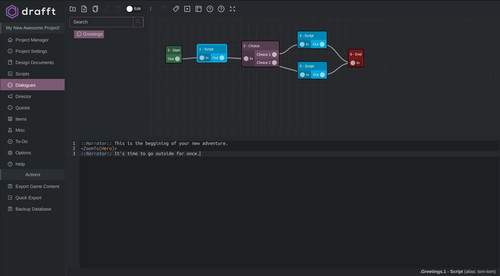 Speechr is now Drafft
As the app grew bigger I feel that the name does not cover all the functionality and was a bit misleading. Also, the licensing model on itch.io and having two different products was becoming a pain.
So Speechr will now be deprecated and all further development will be focused on Drafft. As a supporter, you can use the same license key in this new app to unlock the full version.
If you have any problem in the process just let me know.
Unfortunately, projects are not 100% compatible, especially those containing GDDs, as the editor needed to change due to licensing conflicts.
Here's the full changelog on what to expect in Drafft:
1.0.13 - 2021-02-24
Inline JSON support for Speech Lines and Commands. 📕
Remove unwanted trailing comma in params export mappings.
Fix regex failing with trailing space.
Fix audiotag detection in dialogue simulator.
1.0.12 - 2021-02-24
Fix unhandled load of Image causing db init to crash.
Fix production mode bundle issue.
Fix broken JSON database import.
Several remote replication bugfixes. - Fix Remote Sync Test button
More verbose replication error messages. - Disable remote replication by default on projects created from database backup enhancement
[1.0.0] - 2020-12-12
New Name, new Logo, new site, new licensing.
Dialog simulator! (alpha)
New GDD editor
Spellchecker support in GDD
User can now change the primary color of the app.
Extra confirmation when deleting projects.
Actors now supports standard json/hjson/text properties.
CI/CD setup for automatic nightly builds.
Actors can now have a main portrait and one for each expression.
Actors now have a rich-text editor to write biography, notes etc.
Dialogue nodes ports can now be removed.
Right Clicking dialogue nodes now changes selection.
Script custom hotkey shortcut now supports multiple variables.
Files
drafft-1.0.13-linux-x86_64.AppImage
203 MB
Version 1.0.13
Mar 04, 2021
drafft-linux_portable.zip
201 MB
Version 1.0.13
Mar 04, 2021
drafft-Installer-1.0.13-win.exe
141 MB
Version 1.0.13
Mar 04, 2021
drafft-1.0.13-linux-arm64.AppImage
204 MB
Version 1.0.13
Mar 04, 2021
drafft-windows_portable.zip
206 MB
Version 1.0.13
Mar 04, 2021
drafft-mac_portable.zip
198 MB
Version 1.0.13
Mar 04, 2021